The UnJust Judge, The Widow, The Pharisee and the Publican
The UnJust Judge, The Widow, The Pharisee and the Publican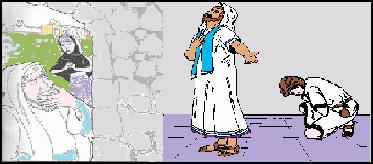 Let us take a quick look at two short parables together.

Luke 18:1-8 And he spake a parable unto them to this end, that men ought always to pray, and not to faint; Saying, There was in a city a judge, which feared not God, neither regarded man: And there was a widow in that city; and she came unto him, saying, Avenge me of mine adversary. And he would not for a while: but afterward he said within himself, Though I fear not God, nor regard man; Yet because this widow troubleth me, I will avenge her, lest by her continual coming she weary me. And the Lord said, Hear what the unjust judge saith. And shall not God avenge his own elect, which cry day and night unto him, though he bear long with them? I tell you that he will avenge them speedily. Nevertheless when the Son of man cometh, shall he find faith on the earth?
In this parable of the unjust Judge we see a man who is standing in direct opposition to the two greatest commandments: love God and love your neighbor. We see he is secular in that he did not fear God and that he is selfish in that did not respect men. Jesus used an example of an unjust judge as a contrast with God who is just.
We then see the persistance and patience of the saints portrayed by the woman and her "continual coming" in humilty – asking for merciful justice. Persistence in prayer is the immediate theme as the first verse reads: "Then He spoke a parable to them, that men always ought to pray and not lose heart…"  Are we persistent in our prayers? Do we appreciate the value of such persistence? Or have we lost heart and don't pray as we ought?
Jesus also used the widow again as a contrasting example for us. This is an argument from the lesser to the greater: If an unjust judge (who is not like God) will hear and avenge the case of a widow and stranger (which we are not) then surely God will hear the prayers of His own children and quickly avenge any injustices done to them.
Jesus followed up the account of the unjust judge with another parable:

Luke 18:9-14 And he spake this parable unto certain which trusted in themselves that they were righteous, and despised others: Two men went up into the temple to pray; the one a Pharisee, and the other a publican. The Pharisee stood and prayed thus with himself, God, I thank thee, that I am not as other men are, extortioners, unjust, adulterers, or even as this publican. I fast twice in the week, I give tithes of all that I possess. And the publican, standing afar off, would not lift up so much as his eyes unto heaven, but smote upon his breast, saying, God be merciful to me a sinner. I tell you, this man went down to his house justified rather than the other: for every one that exalteth himself shall be abased; and he that humbleth himself shall be exalted.
The Pharisee prayed, not to God but to himself, standing proudly before God. He was boastful and arrogant. He was a legalist – proud of his physical law-keeping in tithing and fasting and trusting in his works alone. He looked down his nose narrowly at others. He was highly-esteemed by men and society but God could look past the veneer into the heart of the man. This man was extremely religious. No one could argue with that. Yet, he was not accepted by the Father. There is no religiosity good enough to merit God's favor if a person's heart is wicked – not loving God and loving his neighbor.
The publican was a base and despised member of society – a collector of taxes. (How do you feel about an IRS agent?) The man knew he was unworthy to stand before God so he stood "afar off." The man did not compare himself to, or lift himself above, others. He was awed and humbled in that he couldn't even lift his eyes to heaven. He was passionate about his repentance from sin and his need for God's pardoning grace. There is no sin too great that God can't forgive if a person's heart is contrite [contrite means: grieving and penitent for sin or shortcoming ]. This man acted humbly – despising his sin rather than His God or even the Pharisee who belittled him – he was loving God and loving his neighbor.
We need to guard against a self-righteous attitude. God judges you, oh Believer, not as you deserve, but mercifully and yet justly. He imputes the righteousness of Christ to you. Jesus, the Holy Redeemer, paid the ultimate price to show how much God  loves you. He places more emphasis on the content of your heart than on outward appearances.
Each day commit yourself to strive for pureness of your own heart. (clean the inside of the cup) As you have received an undeserved gift of grace so you should extend grace to others when they act wrongly, realizing that their behavior may not necessarily be the result of sheer rebellion, but of ignorance, inability, or thoughtlessness.
Forgive and you shall be forgiven. In this, you fulfill the law of loving God and loving your neighbor – which includes loving 'your enemies.' The Just Judge discerns the hearts and thoughts; therefore, be ye holy – as He is Holy.
Isaiah 11:1-5 And there shall come forth a rod out of the stem of Jesse, and a Branch shall grow out of his roots: And the spirit of the LORD shall rest upon him, the spirit of wisdom and understanding, the spirit of counsel and might, the spirit of knowledge and of the fear of the LORD; And shall make him of quick understanding in the fear of the LORD: and he shall not judge after the sight of his eyes, neither reprove after the hearing of his ears: But with righteousness shall he judge the poor, and reprove with equity for the meek of the earth: and he shall smite the earth with the rod of his mouth, and with the breath of his lips shall he slay the wicked. And righteousness shall be the girdle of his loins, and faithfulness the girdle of his reins.
Here comes The Judge … Here comes The Judge. Hallelujah!
by Kenneth M. Hoeck – [SabbathMan]